An Idea for a Cancer Angel

Personal Story by Laurel Latto, Artist


This is a personal project that came about my work in clinical research. Clinical research involves the testing the next generation of drugs and devices in medical clinics under controlled conditions. The results of these studies are used to support applications to FDA for approval by the general public. As part of my job, I visit the medical clinics where the research is being conducted to ensure the safety of the people who are participating in the clinic trial, verify that the clinic is complying with local and federal regulations on research, and to review the data before it is sent in-house for analysis. As a result, I have been in and out of oncology clinics all over the United States and Canada. Cancer became personal again when my good friend, Patrick, told me that his dad, Skip, was diagnosed with possible pancreatic cancer. My heart fell because I knew the odds were not good. Patrick's parents had been surrogate parents to me who had taken me in whenever I was working at a clinic near their house.

I had been wanting to do an angel painting series and one day it all came together for me. I was in the airport about to fly out to San Antonio for a work trip when I received a phone call from Patrick. He told me that his dad come through surgery okay, the cancer diagnosis was unknown, but it was NOT pancreatic. After his call, I felt such relief and inspiration flooded to me as angel images. I sat in the San Diego airport and during the plane ride to San Antonio sketching a series of angel paintings. One of them was of an abstract angel like the a simple figure of a woman on a bathroom door sign. In addition, the figure had radiating lines around like energy rings or ripples similar to a stone contacting water.

(My original sketch ideas on a back of a Yahoo map for Texas. On the left is "Care of the Soul" and the on the right is the image described above. )

When I arrived in Texas, I had dinner that night with friends, Teresa and Amy, who are also in the oncology clinical research field. Teresa shared with me the writing of "What Cancer Cannot Do." I was surprised for I had never heard of it.
The passage was framed with a simple border. Amy had given to Teresa after Teresa had a potential cancer diagnosis and was waiting for her biopsy results. Later, Teresa found out she did not have cancer.
Later, Teresa passed it onto another friend, Susan, who had a terminal diagnosis for stage 4 metastatic melanoma. Teresa gave it to Susan as a "loan" under the premise that it was to be returned once the friend got better. Teresa went with her to her appointments. Through aggressive treatment in clinical research trials for high dose IL-2, she did just that was able to acheive a complete response (complete disappearance of tumor). Susan kept the framed print in her car when she went to medical appointments. When she got the notice of her diagnosis that she was cancer free, Susan pulled the print from her car and returned the loaned print to Teresa. Susan remains cancer free as of Winter 2010. (Only 5% of patients with Susan's original stage 4 diagnosis are still alove after 5 years.)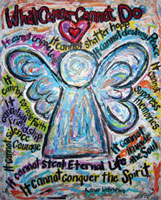 After hearing this story, I no longer saw the angel painting as having concentric swirling rings around it, but rather blank lines waiting for the text of "What Cancer Cannot Do" to be written on them.

After I painted it, I shared it with family, friends, and co-workers. I was thinking about donating it to one of the oncology centers that I work with for their infusion room. (When someone receives chemotherapy, they will often receive it as an IV infusion which requires sitting in a lounge chair for hours at a time as they gradually receive the drug.) Most infusion rooms, have TVs or reading material, but I thought it could be enhanced by having a positive image. I am becoming more aware of the power of art imagery to heal in ways that drugs cannot do.

An oncology clinic staff member noted that patients often spend more time in the waiting room than anywhere else. I thought it was a wonderful suggestion.

There were other requests for copies of the first painting. This made me realize that I could repaint it with different interpretations and have each one be different. This is how I started painting different versions.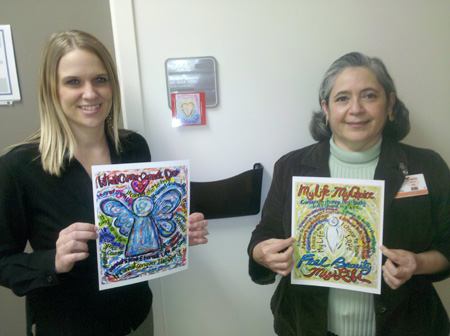 People were also asking for prints so I passing them out. Shortly after, I worked at an oncology clinic. Their infusion room and waiting room looked like it could really use some color to brighten it. Inspired, I went back to the hotel. I wanted to create something that would easily give a little color, make the text readable, and be affordable. I so I designed a poster and posted it online. When I was working in an office during one of my consulting jobs, I brought in some of the posters. Co-workers saw them and requested them for their offices and work cubicles. One co-worker explained to me that when got frustrated with team members or the project, she would look at the poster and it would help her refocus on the idea that she was work on cancer research to help people.

In keeping with the initial spirit of Amy & Teresa giving the gift of the inspirational text to each other, I wanted to the images of DonnaBellas Angels to be free to clinics to distribute. The images on this web site are large enough that you can copy them for sharing with family & friends. Higher quality images also available for purchase online if you so choose.
If you are part of a clinic that provides support to patients and caregivers and would like free art for use then please email info@donnabellasangels.org. We also love to hear about what the art has meant to you. Please email us with any stories you would like to share!

Sincerely,

Laurel Latto
Artist & Founder of DonnaBellas Angels
Update & Additional Thoughts On Angels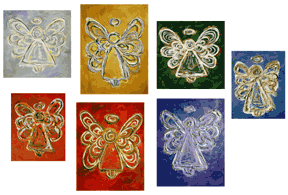 After painting many images, I sometimes use an angel and other times do not. When I explain the paintings to people, I note that the angel represents the transforming of Spirit. The paintings are meant to be open to interpretation by the viewer. It can be a non-specific religious image or a body freed from emotional weariness from the physical toll of disease. This is why I use the image of a heart or colorful text alone. The recipient viewer will find their own message of healing as needed in the art that speaks to their heart.