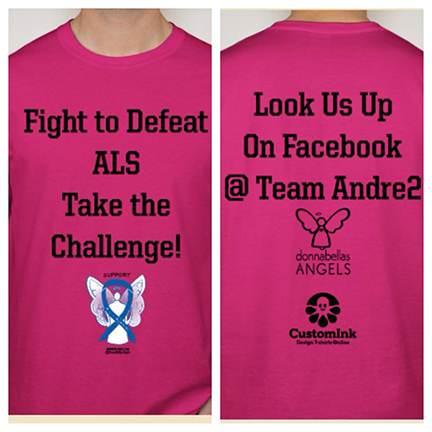 A contract will be required for granting limited royalty use for the awareness ribbon artwork. The project will need to include an art royalty credit to DonnaBellas Angels. Please email info@donnabellasangels.org with your request.
After your project proposal is accepted and a signed contract is in place then the art file will be provided. DonnaBellas Angels will need final art review and approval prior to printing and/or use. A sample of the item should be provided to DonnaBellas Angels once printed. We also request that you share a photo and provide feedback to us.
For example, Team Andre used the Blue Awareness Ribbon for their ALS team walk shirt. They emailed the sample art to the right prior to printing. Andre gave us this feedback:

"My name is Andre Williams Sr. and as an ALS patient I was honored to have DonnaBellas Angels art work on our T-shirts for our ALS walk.  Just having the Ribbon and Angel showing support for ALS will help Team Andre spread ALS Awareness.  Thanks again DonnaBellas Angels for your support. "
View more examples of fundraiser t-shirts with DonnaBellas Angels art.