Archangel Michael's Support & Love
Archangel Michael helps provide support when asked. He is known for his deep blue color among the archangels. Angels are able to bring to us for support if it is a sincere request. This angel art painting is a reminder that you are supported and loved more than you know.
​​Inspirational artwork by Laurel Latto for DonnaBellas Angels.org.
You may download and share this image share with friends, family and co-workers. We permit personal use (non-commercial use) of our images as part of our non-profit's mission in helping others to provide a healing support to the public. Please help
support our mission by making a donation
today!
The inspirational angel art painting is available for purchase on a variety of our online stores. Scroll down to see a selection of available inspirational word artwork painting gifts and merchandise. ​If you wish to purchase the art, it is available for sale at
DonnaBellas Angels at Zazzle
.
Archangel Michael Art Prints, Posters, & Plaques
Archangel Michael Magnets
Archangel Michael Coffee Cups, Mugs, & Glassware
Archangel Michael Stickers or Decals

Archangel Michael Greeting or Note Cards
Archangel Michael Jewelry Pendant Necklace and Charms
Archangel Michael Shirts and Clothing
Archangel Michael Face Masks
Archangel Michael Holiday Ornaments
Archangel Michael Soft Blankets
Archangel Michael Nightlights
Archangel Michael Fabric Material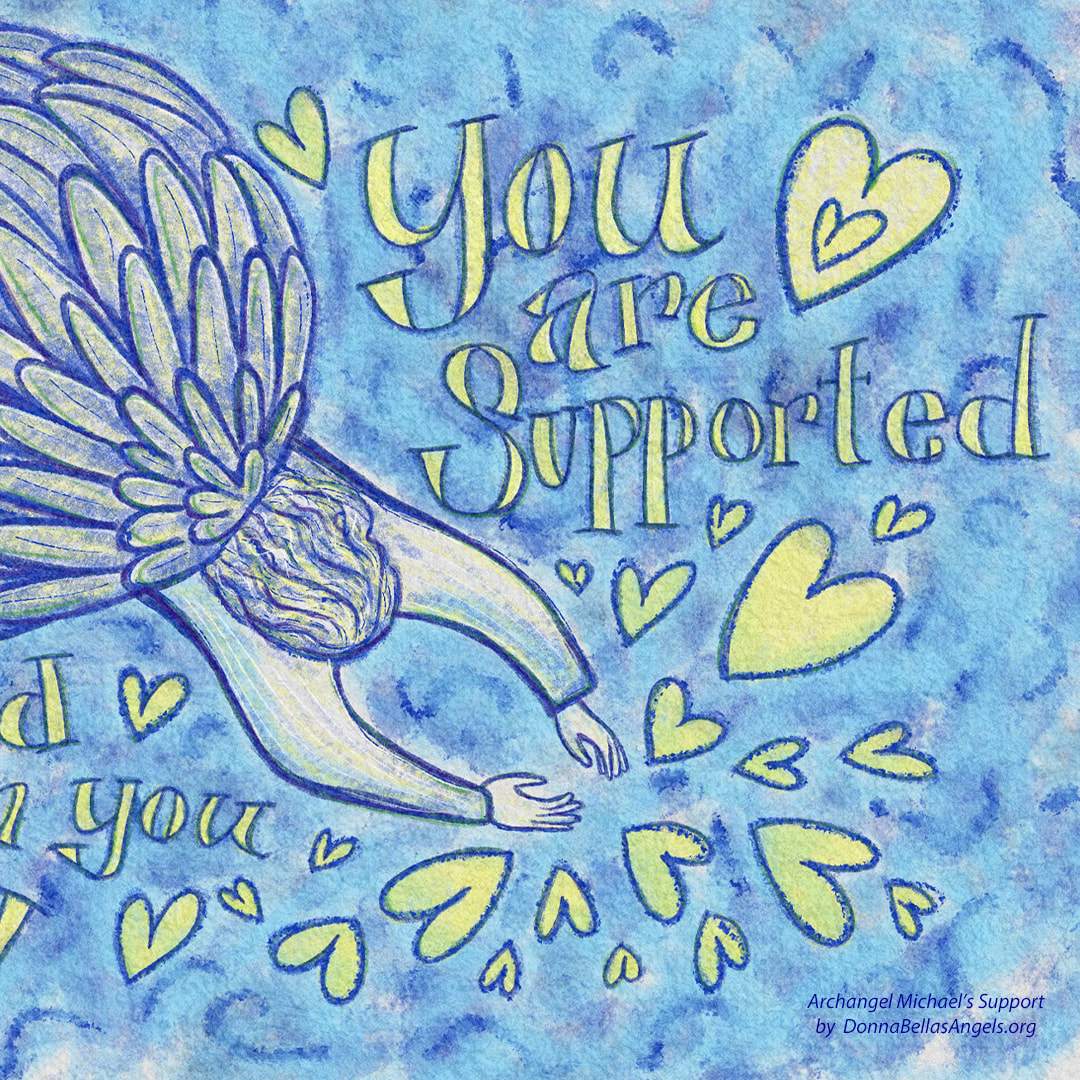 Art notes on creating Archangel Michael's Support
The art was first created using a pencil sketch that was scanned into the computer. Next, a "digital paper" was used as a background with the sketch on top. Layers of digital paper were applied on top of the sketch. At the end, the layer with the digital sketch was removed.
Since the art was rendered digitally, there are two different versions of the image available with and without the love support message so people can add their own support message to the angel art painting and gifts.