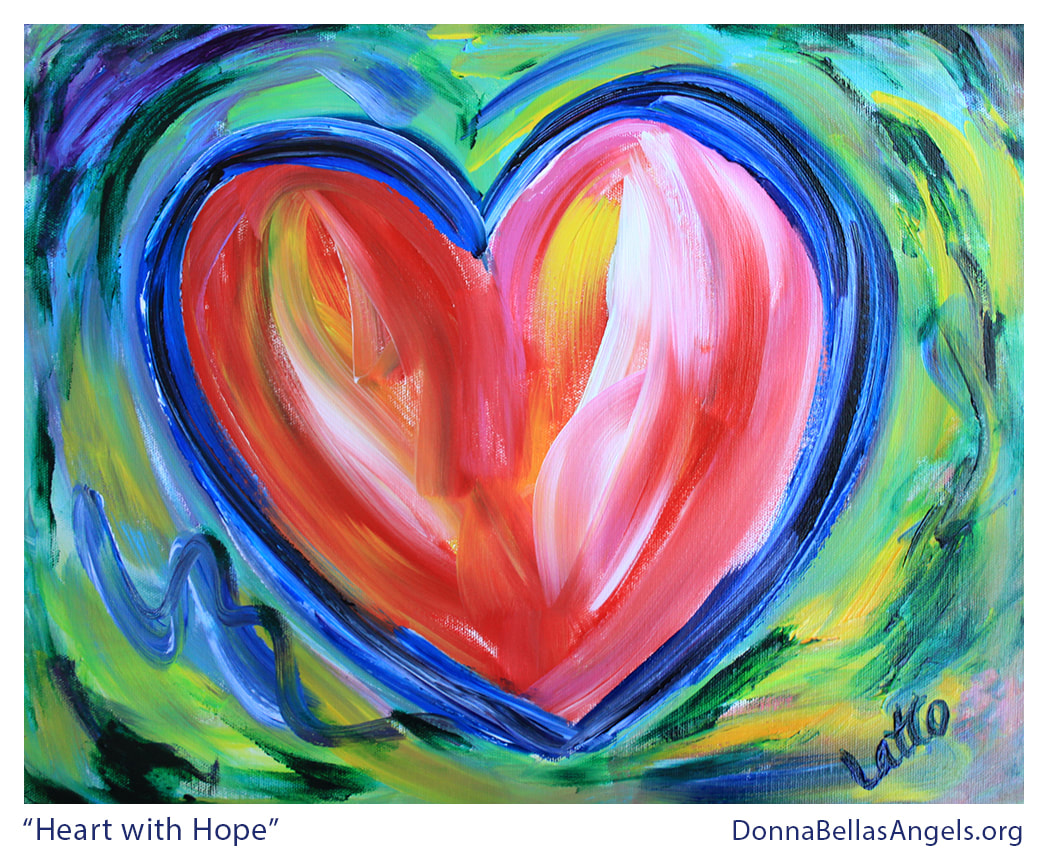 Red Heart with Hope Painting Inspirational Art
A colorful red heart with glimmers of white and gold accents. The heart is outlined in blue with a soft green background. This heart painting is a tribute to holding hope within your heart when the sad blues are surrounding you but pushing through for green renewal. Inspirational artwork by Laurel Latto for DonnaBellas Angels.
​You may download and share this image share with friends, family and co-workers. We permit personal use (non-commercial use) of our images as part of our non-profit's mission in helping others to provide a healing support to the public. Please help
support our mission by making a donation
today!
The inspirational heart art painting is available for purchase on a variety of our online stores. Scroll down to see a selection of available inspirational word artwork painting gifts and merchandise. ​If you wish to purchase the art, it is available for sale at
DonnaBellas Angels at Zazzle
.
Heart with Hope Art Prints & Posters
Heart with Hope Art Magnets
Heart with Hope Art Stickers or Decals
Heart with Hope Art ​Greeting Cards, Note Cards, or Postcards
Heart with Hope Art Paperweights
Heart with Hope Art T-Shirts & Clothing
Heart with Hope Art Face Masks
Heart with Hope Art Soft Fleece Throw Blankets
Heart with Hope Art Fabric Material
Heart with Hope Art Jewelry Necklaces & Watches
Heart with Hope Art ​Coffee Cups, Mugs, & Glassware
Heart with Hope Art Ornaments
Heart with Hope Button Pins
Heart with Hope Art ​Tote Bags
Heart with Hope Art Key Chains
Heart with Hope Art Electronic Cases and Mousepad
Heart with Hope Art Gifts