DonnaBellas Angels Art Donations to Carol G. Simon Cancer Center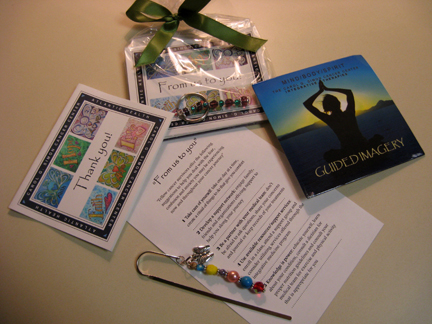 DonnaBellas Angels donated art royalty use to the Carol G. Simon Cancer Center at Morristown Medical Center in New Jersey. They used the art to create cards with messages of hope and inspiration for patients and caregivers.
See art samples (PDF) of the cards:
"From us to you!" - Card given to newly diagnosed patients
"10 Tips" for Caregivers - Card given to thos caring for a loved one
"10 Tips Post Treatment" - Card given to cancer survivors at the end of their cancer treatment
Here is the description and feedback about the art:
We make up little gift packets for our new patients with either a scarf, key chain or bookmark all made by previous patients.  The card reads "From Us To You" and it has tips for when you are starting treatment.
We also make up packets for Caregivers and include a card inside the packet that reads "10 Tips When You Are Caring for a Loved One".
The third is a packet for patients who have completed their treatment.  That also includes a card with "10 Tips When You Have Finished Treatment".
Everyone is so impressed with the art.  It is inspirational and really speaks to the challenges oncology patients and their families face every day.  Obtaining and using this art has been a blessing and we thank you.
- Mimi Gelbman, CVA
Coordinator of Oncology Volunteer Services
Carol G. Simon Cancer Center

In addition to allowing the clinic to use the art on its cards, DonnaBellas Angels provided hundreds of art postcards and letter sized prints for distribution to patients, caregivers, and medical staff. Some prints were framed and displayed on the clinic walls.
It is the mission of DonnaBellas Angels to provide inspirational healing art to medical clinics and wellness centers. We used donations to help cover the cost of producing original art, and art prints so they can be made available at no cost or with a minimal fee to medical clinics.